Vincent D. Perez
Keynote and Master of Ceremonies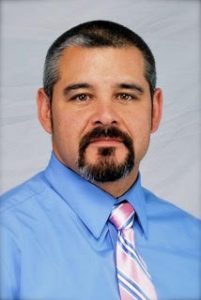 Vincent D. Perez, Latinx Leadership, Juvenile Justice, Culturally Responsive Pedagogy, Trauma-Informed Multitiered System of Supports
Vincent Perez has served as the Latino outreach coordinator for Association of Washington Student Leaders' (a division of the Association of Washington School Principals) student leadership program since January 2012, although his involvement began in 1993 when he attended Mt. Baker leadership camp at Cispus representing Kennewick High as senior class president.  Vincent has dedicated his vocational life to the art and skill of facilitation. Quality learning experiences that honor the dignity of participants is his  rst priority. From 2001-2006, he served as Cispus challenge course manager, and for  ve years he worked in Louisiana in juvenile court mentoring and diversion programs. Vincent earned an AAS in photographic communications at Northwest College and his undergraduate degree from the University of Idaho. He is currently enrolled in the MPA program at   e Evergreen State College.  Vincent has practiced experiential education and training for more than 20 years with a focus on student engagement and sta¬ development in the areas of leadership, juvenile justice, trauma-informed care and Latino/a empowerment. In 2004, he founded La Cima (the Summit), a bilingual leadership program.   is later led to the middle school program ¡La Chispa! (  e Spark!). In partnership with the O ce of Superintendent of Public Instruction's Migrant Ed division, he co-founded the credit-bearing Dare to Dream Academies serving high school, migrant youth for a week-long experience in a university setting. Currently, Vincent is organizing partnerships with XITO (Xican@ Institute for Teaching and Organizing) to inform Washinton's conversation on ethnic studies, leading a cross-sector collective impact effort in Lewis County and serving at Green Hill School (state juvenile rehabilitation facility) every Monday as the Latino culture group leader of Group Ollin. Grupo Ollin is exploring Indigenous knowledge and healing ceremonies, examining the impact of toxic masculinity and violence on our lives, and developing a critical thinking approach to criminal justice reform.