---
Congratulations to the 2017 Grand Prize Winners, ROCK SOLID!
ROCK SOLID was the 2017 Grand Prize Winner.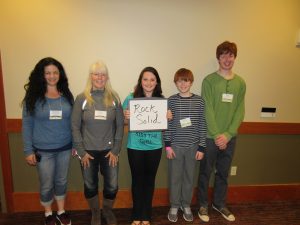 Congratulations to the other winners from the 2017 Spring Youth Forum:
Runner Up Winners: Southeast Asian Young Men & Women's Group
Innovation Award: TBH: Health Club
Sustainability Award: Panthers in Charge
Impact Award: Dayton High School SHEO
Presentation/Professionalism Award: C.A.R.E. Squad
Collaboration/Partnership Award: White Swan Dream Team
About the Forum
The goal of the Spring Youth Forum is to recognize and reward youth prevention teams that have implemented a successful prevention project within their communities; provide a venue to showcase prevention projects that were considered, created, and shaped by youth leaders during and following previous Prevention Summits or other youth trainings; give students from across the state an opportunity to learn from one another through a series of forums presented by the youth teams accepted to attend; and share success stories from youth groups with future groups to encourage sustainability of their programs.
Event Date: Wednesday, May 17, 2017
Check in: Tuesday, May 16, 2017 (all teams arriving on Tuesday MUST check in on Tuesday) and Wednesday, May 17, 2017  (for Wednesday arrivals ONLY)
Great Wolf Lodge Conference Center
20500 Old Highway 99, SW
Centralia, WA 98531
Phone: 800-640-9653
Great Wolf Lodge Conference Center Map
---
2017 Sponsor